Thursday, February 23, 2006
My lovely Sam Soon synopsis and episode guide!
My lovely Sam Soon (aka My name is Kim Sam Soon) episode guide is now up in the forums under the limited editions category. If you can't see the fourms under the limited editions category, you must first register before you can see all the forums including the requests forums! Please go
here
to register. Thanks!
Posted at 09:40 pm by Yoo_Jin_Kim
Permalink
Tuesday, February 21, 2006
Korean Novela Wedding starring Jang Nara and Ryu Shi Won will be aired on ABS-CBN on March 4, 2006! For more information and screencaps, please go
here
. You can also find Princess Lulu OST downloads, Full House OST downloads, Only You OST downloads and pictures, My name is Kim Sam Soon synopsis, Eugene album downloads and other more downloads and information can be found
here
. Please join in the forums to access more information about Korean/Japanese/Chinese Dramas. Thank you! BTW, if you can't see the requests page, you must first be logged in to the forum before accessing and posting in the requests page.
Posted at 08:03 pm by Yoo_Jin_Kim
Permalink
Saturday, February 18, 2006
PLEASE GO
HERE
TO GET TO THE NEW SITE/FORUM! YOU WILL SEE DOWNLOADS HERE!
Posted at 09:29 pm by Yoo_Jin_Kim
Permalink
Friday, September 09, 2005
GREEN ROSE ENDING SUMMARY!!!
Green Rose Ending Summary Hyun Tae as Edward Lee Jung Hyun as Jerome Soo Ah(SA) as Angela What happened was Edward started arguing with the president and in a state of anger, Edward revealed what happened to his father he pushed the butler away (the guy dying when Jerome entered the house) and repeated smashed the president's head on the wall... after that he told jung taek soo to buy thinner and come back suh jae woo who was on his way back saw this after Edward left, suh jae woo went up to the president and the president begged him to help but suh said to him: who did this to you? It was you beloved son-in law to be! If you die, and that guy goes to jail, then SR is going to be mine After that Jerome came to the house, suh jae woo, who was hiding, saw Jerome about to save the president and he thought, if the president gets saved, then what's going to happen to me although i'm sorry to you(to Jerome), but i cant help it, it's your bad luck so he decided to knock Jerome out jung taek soo threw in the thinner from outside and the fire spread when suh wanted to run away, he was spotted by jung taek soo at the end, jung taek soo left JH's fingerprints everywhere and then left The case is brought to court again and the president testifies he says it wasnt Jerome who tried to kill him but it was JH who actually saved him~ when he was asked who the real culprit was, the president did not say it was Edward and just said it was a person that he had never seen before the story between Edward's father and the president Edward's father was an electronic technician and he was really skilled alot of companies wanted to buy the copyright for his skills but because HT's father was very stubborn, he offended alot of ppl the president was one of the ppl that was interested as well and on the day HT's father got killed, the president just had an argument with HT's dad~ so when HT went to find the president to save his father, the president was still angry and shut the door on him HT took this as that the president was the one who killed his father and entered SR to seek revenge Lee Jung Hyun is announced not guilty suh jae woo resigns and finds JH and apologises he also gives a letter to JH to give to the president saying he's ashamed to see the presdient The president says to soo ah and jung hyun that he is sorry about the whole thing and wants to hand SR over to him On the signing contract ceremony for SR and china electronics, the president attends and is being congratulated...shin hyun tae suddenly appears and wants to get something back from the president soo ah and JH are on the side trying persuade him the president says i'll give you half of the shares for SR, what else do u want shin hyun tae smiles evily and suddenly grabs soo ah and runs in the elevator HT asks soo ah if she's ever loved him etc they come to the rooftop and shin hyun tae jumps off voiceover:actually i could have been happy, father i could have been happy as well and at the end JH and SA kiss last line: dedicated to all parents in the world and their loved ones
Posted at 10:08 pm by Yoo_Jin_Kim
Permalink
Wednesday, May 18, 2005
Jo In Sung's Interview credit to Ayaya
A: Interviewer, I: Zo-Insung
A: You were always wearing a backpack in the Bali story. Do you like a backpack?
I: Yes, I like a backpack and I sometimes wear it to go out.
A: We are curious what's in it. May I see inside of it?
I:(rifles his backpack)
A: Oh, It seems there are candies in it.
Insung gives candies to the fans saying "It's White day today!"
then they walked into a alehouse.
A: Do you drink?
I: Yes, I love to drink. ???(On some event.Can't hear this.) I drink 2 bottles and a half of distilled spirit.
drinking habit? Yes, I have some. I would be eager to go home when I drink. Perhaps during this interview, I might go home before I knew it.(laugh)
A: Oh, then who would pay the bill?(laugh)
I: (Looking for the staffs) Well, it's funny, I've told them...?
A: Now, for your bright future! Cheers!
I: Thank you!
(Insung breaks off a piece of the crab and gives to the interviewer.)
A: Oh, Insung-ssi's girlfriend would be so luky girl! I hope we'll see each other more often.(laugh) Well, the drama Bali story is a huge hit. what do you think of it?
I: It is my first drama which the audience rate was over 40%. So To be honest, I'm very surprised.
A: Oh, you are?
I: Yes, I'm very much surprised.(Look of realy amazed.) I'm realy appreciate it. Even the drama Piano wasn't so good as this.
A: And your acting was so good.
I: I realy invested in the character. And the relationships between the staffs and the costars were so nice.(Then the interviewer try to pour on his own. Insung robs him of the bottle and says "Oh, I'll do for you.") He pours for the interviewer and called out shopman "Another botttle please!"(laugh)
A: What do you think would be, if the Bali story part 2 made?
I: I think it would be a little bit thrilled...
A: Have you got scorched by the director ?
I: Yes, I have much got scorched when I was in the drama The School. My acting was awful.
A: Was your acting awful?
I: Yes, when I think it back, it was so awful. It was then that my dream to be a star was shattered. I recognized that I can't act to be a star. The most important thing for a actor is acting skill. The higher the acting skill would be, catch more notices of the public. If an actor has no acting skill, he has no need to act.
A: Madeleine and Love between south and north sales were not so good. What do you think of it?
I: It was so pain for me. And I suffered terribly. But I also learned much from it. I think that experience would be one of the factors of Bali story's success. I'm very appreciate that The Bali story's got big success and you all are very good to me.
A: Oh, You're so modesty. Don't be so modesty! You are too modesty that it makes me feel annoyed.(laugh)
I: I'm a baby chick just started to act.
A: Oh, You're so Cool! I want to go out with you if I was a girl.(laugh) Well, you have to make a girl friend. Aer there any scandals?
I: There are some. With my younger sister Shin-Mina and my elder sister Gyonrim.
(laugh)
A: Oh, with Shin-Mina yes. Zo-Insung-ssi When was your first love?
I: It was when I was a hight school student. Oh, no it was when I was in a junior hight school second grade. With my classmate.
A: And your first kiss was?
I: When I was a hight school second grade.
A: Wow! With that girl your first loved?
I: No, she's not.(laugh)
A: How long you went out with?
I: For about 2 years and a half or 3 years.
A: So you are lonly right now, aren't you?
I: Yes, I am!(laugh)
A: You hope that someone would be right up to you?
I: Yes I do!
A: Then why not?
I: If I made a girl frien right now, she would be very lonly and unhappy cause I can't spend much time with her now. In former days, I have much time but didn't have much money to take her out for dinner. But now I have some money but have no time to go out with a girlfriend.
I want to give all of me to act. I want to express myself. I have now self-confidence about acting. And I'll never give that self-confidence away. I acted with confidence and I'm doing so and will do. Acting is amusing and I love to act. Without acting I'm nothing. I want to be an actor who act with passion.
Download the interview:

http://163.152.91.35/etc/zoin-hanbam.asf
Originally posted here:
http://www.sweetinsung.net/forums/index.php?showtopic=894
Posted at 09:38 am by Yoo_Jin_Kim
Permalink
Monday, May 16, 2005
Posted at 09:14 am by Yoo_Jin_Kim
Permalink
Sunday, May 15, 2005
Posted at 01:23 pm by Yoo_Jin_Kim
Permalink
Thursday, May 12, 2005
Lovers in Paris thingys!!

In the summer of 2004 all Koreans, no matter the age or gender, were glued to their television sets every weekend waiting to see what would happen next on Lovers in Paris. This TV miniseries/drama successfully portrayed a modern Cinderella story, with Park Shin-yang and Kim Jeong-eun as the lead characters.
[Synopsis]
As the chairman of GD Motors, Han Gi-ju (played by Park Shin-yang) is a divorced man working in Paris. He takes Gang Tae-yeong (played by Kim Jeong-eun), who is working as a housekeeper at his home, as his date to a business party. She is a poor international student who is chasing her father's dream of studying in Paris. Han Gi-ju's nephew, Yun Su-hyeok (played by Lee Dong-gun) meets Tae-yeong by chance, and falls for her.
Tae-yeong ends up returning to Seoul, soon after, Gi-ju and Su-hyeok also return to Seoul separately. Tae-yeong asks Gi-ju for a job and in time, the two fall in love. Gi-ju's father tries to force his son to marry Mun Yun-a (daughter of an influential politician), and she exhausts every means to make this happen. As the family secret involving Gi-ju's and Su-hyeok is disclosed, the relationship between Tae-yeong and Gi-ju is in crisis.
[Meet the Cast]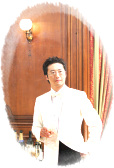 Han Gi-ju
He is the chairperson of GD Motors and is 31 years old. Raised as the head of a major company, he has believed that there wasn't anything that he couldn't do. His sense of humor and noble looks made him to be what every girl is looking for. However, being divorced once and now pressured by his father to marry a woman he doesn't love, Gi-ju is unsure about love. That was until Tae-young came into his life and charmed him with the warmth of her heart and free spirit. At times, Gi-ju can be arrogant and tends to do what he pleases, yet you can't dislike him.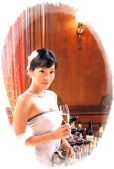 Gang Tae-yeong
Age 26, Gang Tae-yeong can't bear injustice. Even though she got into trouble every time, she can't stop herself from speaking out. Her tough exterior would lead others to believe that she's not that sensitive, but in fact, she has shed many tears. While economically she's not that well off, she's always thankful for what she has. She is saucy and cute, and her charisma attracts both Gi-ju and Su-hyeok at the same time.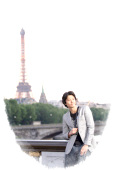 Yun Su-hyeok
Su-hyeok is 26 years old and takes to his uncle, Han Gi-ju who takes better care of Su-hyeok than Su-hyeok's own mother does. It is after following his uncle to Paris that he ends up meeting and falling for Tae-yeong. He rejects the wealth that he was born into, and actively pursues Tae- young. Unfortunately, Tae-yeong's heart belongs to Su-hyeok's uncle. Jealous, Su-hyoek makes things difficult for Tae-yeong and Gi-ju.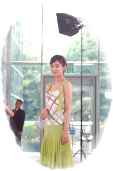 Mun Yun-a
At age 26, Mun Yun-a is the daughter of an influential politician. She is an indiscreet young woman who believes that money can buy love. She looks upon loving Gi-ju as a job and is determined to make him her husband. After learning that Gi-ju actually loves Tae-young, Yun-a tries everything to split them up. She is also an old friend of Tae-yeong.
[Filming Locations]
Including the scenes shot in Paris, France, there were also many unforgettable scenes filmed in Korea. Fans of the show will enjoy learning more about the many filming locations in Seoul.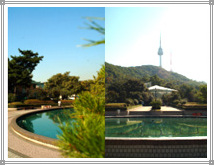 Namsan Fountain
Located in front of Namsan Botanical Gardens, this is where Tae-yeong and Gi-ju throw a coin into the fountain before getting engaged and Tae-yeong says, "Let's just love!" Those that want to toss a coin in the fountain and wish for love can do it anytime with Namsan Fountain open 365 days a year.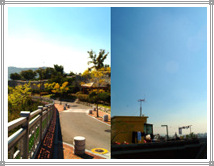 Naksan Park
Tae-yeong's roof-top apartment looks over all of downtown Seoul and is located just behind Naksan Park. The yellow paint will make it easy to spot. At Naksan Park, there is a bench where Tae-yeong and Gi-ju used to sit and talk.
Oakwood Premier COEX CENTER (Hotel) in Gangnam, Seoul

The Oakwood Premier can be seen in the first and second episodes as Han Gi-ju's home in Paris. This lavish penthouse is on the 27th floor equipped with a private elevator. Gang Tae-yeong works here as a housekeeper, keeping the spacious home clean. Her little notes on the bathtub and refrigerator make her character seem even cuter. The coffee shop on the first floor of the hotel also became well known after the hit TV miniseries, Winter Sonata, filmed some scenes here. Located in the heart of Seoul, this hotel is always bustling with people, be sure to make a reservation in advance if you are thinking of staying here.
Grand Hyatt Seoul
The romantic swimming pool scene, the kiss between Tae-yeon and Gi-ju in the lobby, the sweet song Gi-ju sings for Tae-yeong at the bar, the college hockey party held at J.J. Mahoney's and the unforgettable engagement ceremony at the grand ballroom were all filmed at the Grand Hyatt. The Grand Hyatt Seoul hotel is located on Mt. Namsan, with panoramic views of Seoul and the Hangang River. This five-star hotel boasts 602 rooms and a variety of facilities. The outdoor pool is turned into an ice rink in the wintertime and becomes a popular location for dating.
Sangam CGV Multiplex Cinema
The multiplex cinema CGV is the model of CSV where Gi-ju's ex-wilfe Baek Seung Kyeong works for. With its 24 domestic branches, the multiplex cinema CGV is a joint stock company of Korea' s CJ company, Hong Kong's Golden Harvest, and Australia's Village Roadsow. This is where Tae Yeong works for a while, and has pajama party and dates with Gi-ju. At the Golden Class here, you are served by staffs and can use private lounge and bar. Just like the first class of the plane, there are only 30 seats at the Golden Class. Located at World Cup Stadium in Sangam, you can also visit the World Cup Park.
Mokdong Ice Rink
With a ground level and below ground ice rink, Mokdong Ice Rink was where Su-hyeok and Gi-ju enjoyed playing ice hockey. This is also the place where Su-hyeok confessed his love for Tae- yeong. The below ground ice rink is usually used for ice hockey, while the ground level rink is used for ice skating.
Itaewon Land, Jjimjilbang (Korean Sauna)

During Gi-ju's first visit to a jjimjilbang (Korean sauna), he unknowingly makes a comical mistake causing Su-hyeok and Tae-yeong to break into laughter. This five-story building contains a various types of saunas, including bul hanjeungmak (hot room), salt room, ice room, charcoal room and more. In addition to the saunas, this facility also has a DVD theater, PC room, comic book room, health room, and coffee shop, which make it a great place for relaxation and entertainment.
VOV Candy Shop (Cosmetics Store)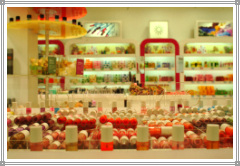 For Tae-yeong, who worked overtime, Gi-ju buys out the shop. VOV is well known for its popular and affordable line of cosmetics. Average prices run from 3,300 ~4,300 won for products.
[photo gallery]
Posted at 01:34 pm by Yoo_Jin_Kim
Permalink
Stairway to Heaven thingyss!!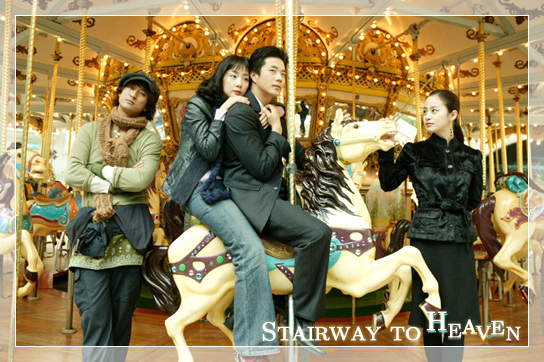 The first episode of Stairway to Heaven aired on February 5, 2004. A total of 20 episodes aired every Wednesday and Thursday night at 10 pm on SBS. This drama quickly became known as one that could bring on laughter and tears, pulling at viewers' heartstrings every time they watched. This TV miniseries was extremely well-received by audiences. Lead actress, Choi Ji-woo's immense popularity with young female audiences, along with a wonderful storyline has kept people talking long after the final episode aired.

Stairway to Heaven captured viewers' attention with passionate performances combined with movie-like qualities. Many viewers would be surprised to learn that the scenes of Han Tae-hwa as a child are actually played by Han yu-ri's real-life young brother.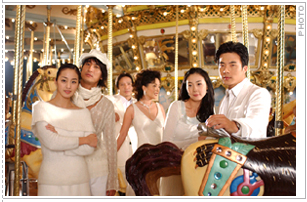 Synopsis
Song-ju (played by Kwon Sang-woo) and Jeong-seo (played by Choi Ji-woo) grew up together as close friends. Their parents close relationship gave them the feeling of being brother and sister as youngsters. As the only son of a wealthy executive of Global Group, Song-ju went abroad to study management. Before leaving, the two childhood friends exchanged necklaces.

After suddenly losing his wife to illness, Jeong-seo's father remarries Tae Mi-ra. For no reason Mi-ra's daughter Yu-ri seems to dislike Jeong-seo from the very beginning and is often cruel to her. During this time of cruel treatment, Jeong-seo is in a serious car accident, resulting in memory loss.

She remembers nothing of her childhood friend, Song-ju and is unexpectedly reunited with him. The four young main characters Cha Song-ju, Han Jeong-seo, Han Tae-hwa, and Han Yu-ri all have different ways of expressing love, making each character unique. The show incorporates the beauty and sadness of love set in beautiful filming locations with sweet, mellow tunes on the soundtrack.


Cha Song-ju (Kwan Sangwoo)

Managing department stores, theme parks and more, Cha Song-ja's character is a skilled businessman. While his true love and talent lie in playing the piano, being the only son a top executive left no choice but to follow in his father's footsteps, leaving the piano merely as a hobby. Infatuated with Jeong-seo, he only plays for her.

The two have many similarities; both are left-handed, have the same blood type, and enjoy theme parks. Moreover, the two seem to have telepathy; when one is in pain the other also feels some kind of pain.



Han Jeong-seo (Choi Ji Woo)

Han Jeong-su is the only daughter of Han Gyo-su, who is in the construction field. Jeong-seo has dreams of being a pianist, but ends up working at Global Group. Her mother died suddenly and her once simple yet happy home life became a distant memory.
Circumstances beyond her control would lead her to hide her illness from others and continue to put others first, her kind-natured character always shining through. Difficulties at home with her stepmother and cruel treatment from her stepsister created an environment that made her bear the burden of her illness alone. Jeong-seo has a gentle exterior, but a tough spirit. She loves only Song-ju and waits for him.



Han Tae-hwa (Shin Hyeon-joon) –

Han Tae-hwa is Tae Mi-ra's son, Yu-ri's older brother, and most recently Jeong-seo's step- brother who is working as an artist. Tae-hwa takes little interest in others. His quiet, introverted nature adds to his mystique and makes his rugged appearance that much more attractive. He is highly self-conscious and has a tendency to approach a tough situation with a fist rather than with words, yet he is highly sympathetic.
His life is filled with hatred towards the mother that abandoned him, Tae Mi-ra. He has the sad fortune of falling in love with Jeong-seo, who becomes the forbidden fruit as his stepsister.




Han Yu-ri (Kim Tae Hee)

As the daughter of Tae Mi-ri, sister of Tae-hwa and stepsister of Jeong-seo, Han yu-ri is working as a director at Global Group. She graduated with a master's degree in management from New York University. Yu-ri's charming and beautiful appearance mask this double-faced girl who is out to get what she wants at any cost.

She can't stand Jeong-seo, who is in the way of her getting the man that she wants, Song-ju. There is nothing stopping her evil nature.



[Filming Locations]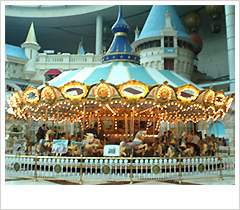 Lotte World
This is where Song-ju and Jeong-seo played as children and rode the carrousel. One floor below the carrousel is the ice rink where they skated in one scene. As an adult, Tae-hwa paints a mural next to the carrousel. This spot was often used as a backdrop for filming Stairway to Heaven, making it memorable to fans.
The rides located in the outer portion of Lotte World were used in the scene where Song-ju and Jeong-seo are on a date.
Muuido
As a child, Jeong-seo lived here with her father.
Missing his deceased wife, her father made this home. One of the most famous scenes from this show is when Song-ju plays the piano on the beach. The scene where Jeong-seo and Song-ju roll up their pants and walk along the beach during low tide was also filmed on the island of Muuido.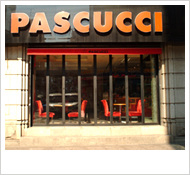 Café PASCUCCI
This was the café where Han Yu-ri and her mother Tae Mi-ra would always be plotting some evil plan. They thought of many ways to separate Jeong-seo and Song-ju here.

The interior of this Italian café (which specializies in espresso) is designed in a remarkably cozy way. Scenes were filmed at the PASCUCCU in Apgujung, which was sensibly designed in black, white, and red.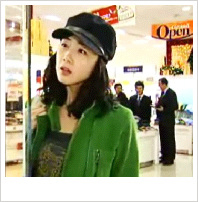 Save Zone (shopping mall)
Jeong-seo takes care of a shop at Namdaemun Market, while Song-ju is responsible for a new store at a shopping mall. This is where Jeong-seo first meets Song-ju. Just by chance, Song-ju sees Jeong-seo in the shopping mall. Song-ju is running all around Save Zone when they just miss running into each other.


[Stairway to Heaven Photo Gallery ]
Posted at 01:28 pm by Yoo_Jin_Kim
Permalink
Autumn in my heart thingyss!!
Gaeul Donghwa (Autumn in My Heart)
In the fall of 2000, audiences across Korea were glued to their television sets as Gaeul Dongwha (Autumn in My Heart) began to win the hearts of all. This television drama was the first part, in a four part series based on each season, by producer Yun Seok-ho. The talented young actors and actresses, along with beautiful filming locations, made this tragic love story a piece of television artistry that captured the hearts of all. Even after the series ended, many fans still visit the filming locations. Some of these include the beautiful sands of Hwajinpo
Beach, nostalgic Abai Village, and a small closed elementary school set in the countryside.
Jun-seo (Song Seung-heon) and Eun-seo (Song Hye-kyo) were happily growing up as brother and sister until the results of a blood test turned their lives upside-down. The blood test, brought on by injury in a car accident, revealed that Eun-seo had been switched at birth with another girl. When this was brought out into the open, she was placed with her birth family and Jun-seo's family went to the United States. Years later, in his early twenties, Jun-seo returned to his hometown in Korea where he one day ran into Eun-seo unexpectedly. Eun-seo was being courted by the son of a wealthy family, Tae-seok (Wonbin), when she met Jun-seo again. She didn't realize how much she had missed him since that chance meeting. They were both working in the art field and began to spend time together. The two that had once grown up believing that they were brother and sister, had begun to develop romantic feelings. They were emotionally distraught and unsure of what to do with these feelings of romantic love.
Eventually, they decided that they had no choice but to consider themselves brother and sister. They had decided to go on one last trip together when they realized that their feelings of love couldn't be denied, turning there trip into an escape from their family and former loves. Loved ones looked upon them with disdain; they were unable to understand their newfound love. Unable to live with the guilt, they once again decided to separate.



Eun-seo returns to Tae-seok, and decides not tell Jun-seo that she is suffering from cancer. As her condition worsens, Jun-seo learns all about the secret that Eun-seo has been keeping from him and runs to her bedside. They spend Eun-seo's remaining time at Jun-seo's art studio. They return to the beach they visited in childhood; here Jun-seo carries Eun-seo on his back while she takes her last breath.
| | |
| --- | --- |
| | |
• Filming Locations
Hwajinpo Beach
: The Lingering Sadness of Tragic Love

Hwajinpo Beach was the set of the last scene in Gaeul Donghwa where the two lovers spent their last moments together. As young and handsome Jun-Seo carried the beautiful yet dying Eun-Seo on his back down the beach, the deep blue winter ocean slowly comes in and out of the shore. This unforgettable scene invites an endless trail of visitors to Hwajinpo Beach where you can also find other attractions such as the magnificent Hwajinpoho Lagoon, historical summer villas and a refreshing pine tree forest.

Jun-Seo's Art Studio
: a Small Closed Elementary School in the Countryside

The main character of Gaeul Donghwa, Jun-Seo kept a small art studio in Yangyang, Gangwon-do. Even after the series ended, this old abandoned elementary school set still maintains its charm attracting many visitors.

Samyang Mokjang Ranch, Daegwanryeong
: Dreams of Honeymoons

Samyang Mokjang Ranch in Daegwanryeong is not only Eun-Seo and Jun-Seo's honeymoon destination, but also Asia's largest green pasture on the plateau. This ancient and vast meadow is where milking cows feed. The view from the plateau is remarkable as well. If you go up to Daegwanryeong Observatory early in the morning, you can witness a spectacular sunrise from the East Sea beyond the peaks of Mt. Odaesan. The lake where cows drink water is called Samjeongho Lake. In order to get around this grand ranch, you should take a car or bicycle. By car, it will take about 2 hours while bicycles will take about 5~6 hours. It would be too much to try to walk the entire ranch.

Abai Village, Sokcho
: Eun-Seo's home

Abai Village appears in Gaeul Donghwa as Eun-Seo's home. The village is reminiscent of the homes in the 1960s and 1970s. The scene of Eun-Seo arriving on a sailing boat or the village's tiny grocery store attracts many who pass by this little quaint village.
Abai Village in Sokcho is actually where many North Koreans settled after the Korean War. After Korea was divided, North Korean gathered in Abai ("father" in North Korean dialect) Village, but sadly, most villagers are second generation North Koreans who settled in the south after the war.
You can get to Abai Village by car or by boat. The boat from Sokcho to Cheongho-dong can carry 35 people at most because it not powered by an engine. After getting off the boat, walk southward a bit and you will find Cheongho-dong Dock. It is an excellent course for a stroll. This area is also well known for its 'Abai Sun-dae (Korean style sausage)'. It is made of squid and other seafood.
Posted at 01:25 pm by Yoo_Jin_Kim
Permalink
---
---
I'm a fan of:
---
[ View Guestbook ] [ Sign Guestbook ]
Get a FREE guestbook here!
---
---
---
---
---
---
---
---
---
Save Your Last Dance For Me Yahoo! group
---
What Your Dreams Mean...
Your dreams seem to show that you're a bit disturbed... but nothing serious. You may have a problem you're trying to work out in your sleep. Overall, you are very content in your life. You tend to be a very productive thinker. Your dreams tend to reflect your insecurities. Your dreams indicate that you have very conflicted feelings. You have a very vivid imagination and a rich creative mind.
---
The Keys to Your Heart
You are attracted to those who have a split personality - cold as ice on the outside but hot as fire in the heart.
In love, you feel the most alive when your lover is creative and never lets you feel bored.
You'd like to your lover to think you are stylish and alluring.
You would be forced to break up with someone who was insecure and in constant need of reassurance.
Your ideal relationship is traditional. Without saying anything, both of you communicate with your hearts.
Your risk of cheating is zero. You care about society and morality. You would never break a commitment.
You think of marriage as something precious. You'll treasure marriage and treat it as sacred.
In this moment, you think of love as something you thirst for. You'll do anything for love, but you won't fall for it easily.
---
Your #1 Match: ESTJ
The Guardian You're a natural leader and quick, logical decision maker. Goals are important in your life, and you take many steps to acheive them. You enjoy interacting with others, mostly through work related activities. Your high energy level means you are great at getting things done! You would make a great teacher, judge, or police detective.
Your #2 Match: ISTJ
The Duty Fulfiller You are responsible, reliable, and hardworking - you get the job done. You prefer productive hobbies, like woodworking or knittings. Quiet and serious, you are well prepared for whatever life hands you. Conservative and down-to-earth, you hardly ever do anything crazy. You would make a great business executive, accountant, or lawyer.
---
Your Birthdate: September 18
Your birthday on the 18th day of the month suggests than you are one who can work well with a group, but still remain someone who needs to maintain individual identity. There is a humanistic or philanthropic approach to business circumstances in which you find yourself. You may have good executive abilities, as you are very much the organizer and administrator. You are broad-minded, tolerant and generous; a compassionate person that can inspire others with imaginative ideas. Some of your feelings may be expressed, but even more of them are apt to be repressed. There is a lot of drama in your personality and in the way you express yourself to others. Oddly enough, you don't expect as much in return as you give.
---
Your Linguistic Profile:
40% General American English
40% Yankee
15% Dixie
5% Upper Midwestern
0% Midwestern
---
ALDREN
A
is for
Astounding
L
is for
Liberal
D
is for
Ditzy
R
is for
Romantic
E
is for
Exquisite
N
is for
Nerdy
---
Your Brain is 60.00% Female, 40.00% Male
Your brain is a healthy mix of male and female You are both sensitive and savvy Rational and reasonable, you tend to keep level headed But you also tend to wear your heart on your sleeve
---
You Will Die at Age 73
73

You're pretty average when it comes to how you live... And how you'll die as well.
---
Virgo - Your Love Profile
Your positive traits:

You're incredibly thoughtful and able to give your partner what they need most.
You are totally logical. You can deal with problems without involving your emotions.
A good work ethic. You'll do whatever it takes (within reason) to make your relationship work.

Your negative traits:

Sometimes you are so focused on your goals that you let your relationships suffer
You tend to be a perfectionist - and expect perfection from your mate as well
You are picky. So picky that you rather be single than with someone who has a few minor faults.

Your ideal partner:

Values success in life as much as you do
Fits a checklist of qualities you've been looking for since childhood
Like you, is more practical and realistic than romantic

Your dating style:

Active. You're a bit hyper, so you'd prefer a date that involved rollerblading in the park or hiking.

Your seduction style:

You may seem a bit shy, but once you open up to someone - you're totally uninhibited
You like to set the scene first - candles, music, nice sheets
A bit obsessed with cleanliness, you may want to shower first with your love

Tips for the future:

Soften up a little. Vulnerability is sexy - and feels great over time.
Lower your standards a little. Look past a messy desk or someone being five minutes late.
Praise your partner more. You make expect them to be successful, but complements are still appreciated.

Best place to meet someone online:

eHarmony - the best place to find other busy singles looking for a serious relationship

Best color to attract mate: Navy blue

Best day for a date: Wednesday

Get your free love profile at Blogthings.
---
---
---
MAGANDA I2 BSAHIN NYO NA!!

isang gabi.. usapang lalake..

*sindi ng yosi*

*hithit*

*buga*

Musta na, pare? Ako, okay lang. Eto. Nagmumuni-muni. Nag-iisip. Minsan talaga may mga bagay na hindi ko maintindihan. Ewan ko ba.

*hinga ng malalim*

Bakit ba ganun pare, ilang beses ko na pinag-aralan pero lagi na lang lumalabas na parang kahit 'sang anggulo mo tingnan, hindi nagiging patas para sa mga lalake ang ilang bagay pagdating sa pagmamahal.

*tingin sa stars*

Minsan naiisip ko, alam kaya ng mga babae ang hirap ng lalake na gumawa ng first move para magtapat ng pagmamahal? E yung hirap na dinadaanan sa panliligaw at pagsuyo sa mahal nya? Ang feeling ng masaktan pag nabasted?

Malamang-lamang siguro, hindi ano. Wala naman yata silang alam sa mga paghihirap naten e. Ang alam lang ata nila e mamili, manakit, at magsaya. Tingin mo?

*tingin sa malayo*

Lagi naman ganun. Una pa lang, lalake na ang naghihirap. Hassle saten ang panliligaw pero bago pa yun, kung ano pang diskarte ang gagawin naten para masabi naten sa kanila na mahal natin sila. Alam kaya nila yun? Mahirap magsabi na mahal mo na yung babae, diba? Tapos liligawan pa naten. Patutunayan na mahal nga sila. Susuyuin to-the-max.

Maghahatid sa bahay, tutulungan, sasabayan, pakakainin, pagtyatyagaan, lahat na. Kulang na lang e pagsilbihan mo nang walang sahod. At ano ang kapalit? Well, depende sa trip nila.

Oo tol, sa trip lang nila. Wala silang pake kesehodang mahal natin talaga sila. Basta ang alam nila, pag di nila tayo trip, isang malaking HINDE ang makukuha naten, kahit umiyak pa tayo ng dugo o lumuhod sa mga asing buu-buo.

Para lang silang namimili ng damit na di man lang sinusukat bago ayawan. Kaya kahit mahal na mahal na mahal na mahal natin, sorry tayo. Hindi nila alam kung mahal mo sila. Kailangan mong maabot ang kanilang mga standards o uuwi ka lang na badtrip, iiling-iling, at minsan, luhaan.

Wala tayong magagawa, marami silang alibi. "Hindi pa 'ko ready eh..", "Sorry pero I think we should just be friends..", "Ha? Uhhmm.. nagpapatawa ka ba? Hahahaha.." "Better luck next time na lang muna, okay lang?", "Give me a decade. Pag-iisipan ko muna..", "Para lang kitang kapatid e..", yaddah yaddah.

Isang malaking pagsasaklob ng langit at lupa 'yon para saten.

*kuha ng bote ng beer*

*lagok*

*lunok*

At hindi lang 'yon tol. Sa pre-relationship stage pa lang yon. Pag sinagot na nila tayo, satin pa rin ang hassle. Tayo daw ang mga lalake kaya tayo ang hahawak ng relasyon. Tayo ang aayos kung may gulo; tayo ang dapat magpapakabait; tayo ang magtatyaga; tayo ang magiging devoted at faithful; tayo, tayo tayo.

Sila? Ummm? Teka, isipin ko.

Ayun. Sila ang magsasabi kung anong oras kayo dapat magmeet; sila ang magtetext ng mga mushy at kabalbalang texts; sila ang magdedemand sayo ng kung anu-ano; sila ang magbabawal; sila ang magsasabi kung kelan ka dapat mag-shave, kung kelan ka pwedeng tumawag sa bahay nila, kung kelan sila di dapat bad tripin dahil meron sila, at kung kelan ka korni. Ewan. Ganun ata talaga.

*kuha ng bote ng beer*

*lagok*

*lunok*

Hindi pa yun tapos pare, dahil dapat tayo ang bahala kung ano ang magiging takbo ng relasyon. Pag maganda, edi okay. Pag may problema, kasalanan naten. Haay buhay. Minsan talaga kung tutuusin sakit sila ng ulo. Kaya lang mahal naten kaya di na natin iniintindi yun.

*hinga ng malalim*

Pero alam mo tol, feeling ko mas sincere pa tayo magmahal sa kanila. Alam mo yun, iba tayo magmahal e. Hindi lang

parang laru-laro lang. Seryoso...
---
---
Other blog: My life! Anime
---